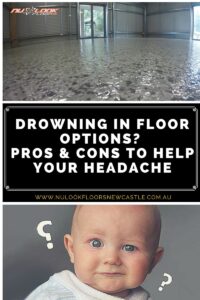 Whether you're building a new home, or planning to freshen up with renovations, one of the choices homeowners frequently face are the floor options. With many varied options available, from synthetic to natural, hard or soft – you may feel as though you're drowning in all these different options, which can often become a headache when it comes to decision time.
While many immediately think of the more common options such as tiles, timber, or even stone and vinyl – when it comes to hard-floor choices, there is actually another very economical and durable choice of floor that can brighten up any space in your home setting. If you haven't yet considered Decorative Epoxy Flake Flooring, please read on! 
Decorative Epoxy flooring provides a durable and hygienic surface that is easy to clean, for indoor and outdoor environments. Tiles are similar in that regard, but grout can often attract stains and is difficult to clean. Epoxy floors are seamless and a great solution to this problem, making it perfect for surfaces where hygiene is priority. Can you imagine what it would be like not having to get down on your hands and knees to clean those grout lines? 
Timber or laminated timber 'look-alike' floors may be quick and easy to install, however they can be slippery when wet and prone to show scratches or scuff marks. Panels might also shrink or expand from temperature changes, whilst edges can fray and allow water in. Decorative Epoxy Flake Floors are slip-resistant and come in a variety of finishes, from mild to coarser textures installed to suit your needs. The coating is also extremely hard wearing giving you the protection against scratches and marks.
While stone floors may offer aesthetics, they are not only expensive and labour intensive, certain stone types can even absorb stains and dirt. Decorative Epoxy Flake floors offer a beautiful finish without the issues of being porous. 
Vinyl flooring is non-porous and easy to clean, but due to its soft quality, hard or sharp objects can easily cause tears, which are very difficult and sometimes costly to repair. Epoxy flooring is hard-wearing and a long lasting option with very little ongoing maintenance. 
As you can see, Decorative Epoxy Flake Flooring is an excellent option for your home. NuLook Floors have a range of 12 Decorative Epoxy Flake patterns to suit your style, plus our professional products and installation are backed by a 5 year guarantee.
Contact us for an obligation free quote – let's discuss how we can create your new floors today!