Spring has finally arrived and the warmer days are here at last!
It's time to come out of hibernation and start planning your social life again. Australians love to entertain at home, however perhaps you feel the need to spruce things up a bit, and revamp your outdoor entertaining area – ready for the influx of summertime guests.
Epoxy flooring is a great way to transform your tired outdoor patio into a user-friendly area that not only looks impressive, but is functional and easy to maintain. A well designed floor area that transitions from the indoors to the outside also adds more living space to your home, providing an entertainment area that your guests will love. Plus, it's a comfortable place where the family can hang out together and the kids can play – sheltered from the harsh sun or rain.
Our slip resistant flooring and coatings come in a variety of finishes, from the very mild to coarser textures, and are installed according to your specific needs. We have 13 colours to choose from.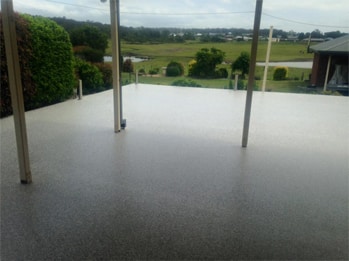 Here are the practical reasons why Epoxy flooring is the perfect user-friendly choice for your outdoor entertainment floor area:
✔ Its non-porous surface is resistant to staining from food, drink and other spills.
✔ Easy to clean – no fuss when it comes to cleaning up – simply hose down, using a broom and your Nulook cleaner, then mop dry.
✔Durability – outdoor furniture won't scratch when being dragged across the floor, due to the fact that epoxy is a material that is strong, resistant to degradation and one that bonds extremely well to concrete floors, making it perfect for even the most demanding areas of the home.
✔ Epoxy flake floors are anti-bacterial, therefore hygienic for your guests and family.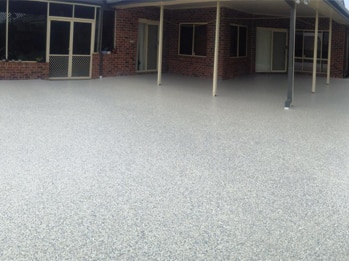 Remember too, a pristine entertainment area is also a long-term investment, when it comes to adding value to your home.
If your outdoor entertainment area is looking a bit worse for wear and needs sprucing up, give the Premium Epoxy Flooring Specialists a call today. Our team at Nulook Floors would love to help create a seamless decorative Epoxy floor finish to enhance your outdoor entertaining area. You simply can't beat it!